Jefferson Beauregard Sessions is now saying that during his time as attorney general the Justice Department has not and will not be improperly influenced by political considerations. However, it's hard to see how he could say this with a straight face given the plain reality that it appears emails related to the Hilary Clinton scandal still haven't even been examined by the DOJ while in contrast a special prosecutor has been appointed to target Trump.
Some recent events:
President Trump (R-USA) appeared on Fox and Friends yesterday morning and criticized Sessions, saying that he "never took control" of the Justice Department:
Later, Sessions released this statement on Twitter via Justice Department spokesperson Sarah Isgur Flores:
I took control of the Department of Justice the day I was sworn in, which is why we have had unprecedented success at effectuating the President's agenda -- one that protects the safety and security and rights of the American people, reduces violent crime, enforces our immigration laws, promotes economic growth, and advances religious liberty.
While I am Attorney General, the actions of the Department of Justice will not be improperly influenced by political considerations. I demand the highest standards, and where they are not met, I take action. However, no nation has a more talented, more dedicated group of law enforcement investigators and prosecutors than the United States.
More recently, Bloomberg started circulating word that the GOP may have tasked Trump with firing Sessions after the upcoming midterm elections this November— 74 days from now. Following that, a certain cable news network that will not be specified here, but which uses the voice of Darth Vader to call itself "the most trusted name in news" started circulating word that Lindsey Graham (R- SC) has paved the way for Trump to fire Sessions by saying, "The President's entitled to having an attorney general he has faith in, somebody that is qualified for the job and I think there will come a time sooner rather than later where it will be time to have a new face and a fresh voice at the Department of Justice. Clearly, Attorney General Sessions doesn't have the confidence of the President."
Just this morning, President Trump responded with the following tweets: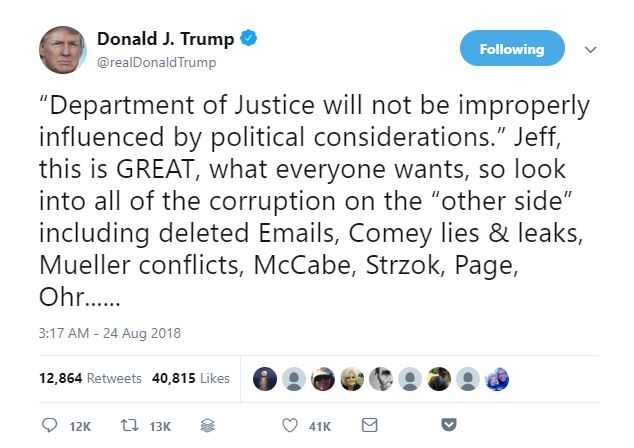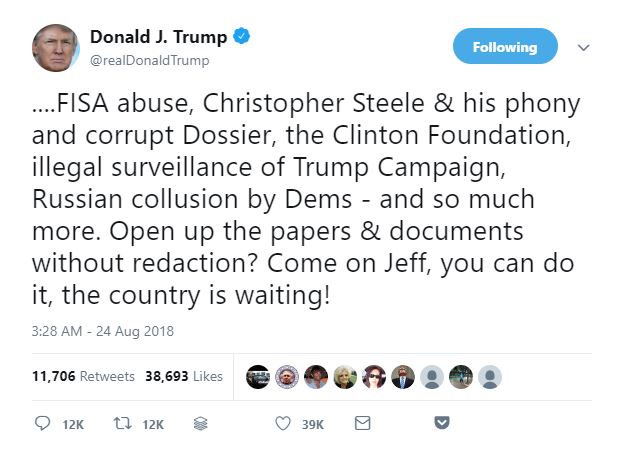 President Trump's tweets highlight the plain reality that when it comes to AG Sessions and the DOJ, the tail very much seems to have been wagging the dog for the past year and a half. And even after Sessions released the statement above, other members of the GOP could hardly have said to be rallying in support of the now long-beleaguered AG. Though Six Republican senators have since rallied around him, time will tell if he will be able to maintain their support.
On a similar note, perhaps just as striking as some of the things which the Justice Department has been doing are many of the things which it hasn't. For some examples, it seems an undisputed fact that former Secretary of State Hillary Clinton used an unauthorized private email server and mishandled classified information, there's video of former Attorney General Loretta Lynch acknowledging her now-infamous "tarmac meeting" with Bill Clinton, and records of the $675,000 payment from Virginia Governor and close Clinton-ally Terry McAuliffe to the wife of former Deputy FBI Director Andrew McCabe, who had a leadership role in the Bureau's investigation of Hillary. Yet, despite Sessions' assertion that the DOJ "will not be improperly influenced by political considerations," no indictments have been made public against the Clintons nor their cohorts.
And then there's the DOJ's utter failure to enforce the federally-protected civil rights of medical kidnapping victim Justina Pelletier – including her right to religious liberty:
As has been well-documented, Justina was denied the ability to attend Mass, take Communion, and go to Confession for well over a year. Yet despite Sessions' remarks about pursuing President Trump's agenda regarding religious liberty, there's been no federal civil rights enforcement for Justina of any kind. And maybe, regardless of Sessions' remarks about the DOJ remaining free from improper influence by political considerations, the failure of his department to take action on behalf of Justina and many others like her is simply because it is a very powerful and well-connected Harvard-affiliated institution which Justina says violated her rights and the DOJ is too corrupt to enforce federal law when it comes to Harvard – or the Clintons.
Prior to publication, the Attorney General's office did not immediately return a request for comment as to whether AG Sessions considers Harvard and the Clintons to be above the law.
Marty Gottesfeld is considered a prisoner of the Massachusetts Democratic establishment for helping to save the life of medical kidnapping victim Justina Pelletier when she was endangered by Harvard-affiliated Boston Children's Hospital (BCH). To donate, learn more about him, or follow him on social media, go to www.FreeMartyG.com.